Countertop Refinishing Services
We refinish your existing countertops, sinks, and backsplashes. Professional application of specialty durable coatings make your old counters, tiles, surfaces, and sink vanities look brand new again.
Crystal Shine Refinishing can show you many options for beautiful countertops without having to spend as much as you would with a full replacement. Tile, stone, or synthetic countertops can be refinished to their original shine with our specialized service. Scratches and pits and stains will disappear. Full coverage coatings can make your countertops and vanities look like real stone, and cabinets can have a high-end appeal.
Refinishing your current countertops, vanities, and sinks is more economical and environmentally friendly than spending a lot of money on the removal and installation of new ones.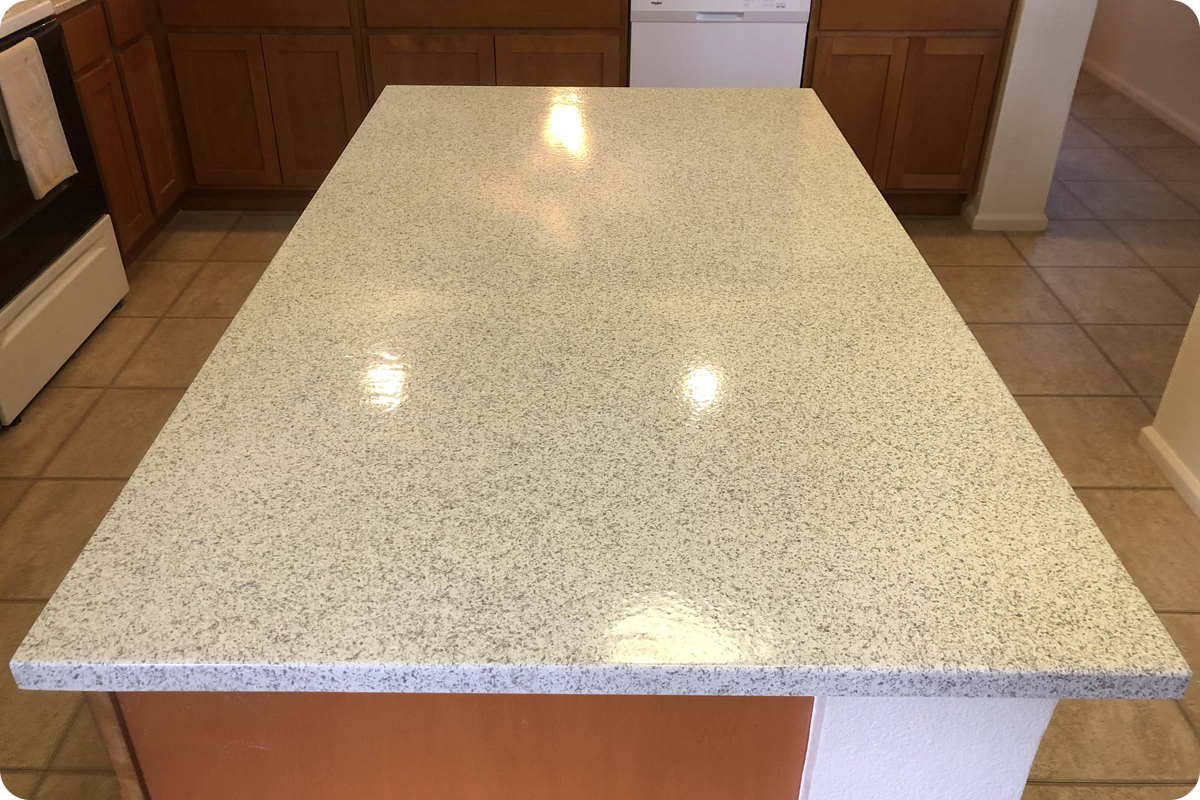 Save money by refinishing
Crystal Shine Refinishing will give your countertops a new look
If you are considering opting for our StoneFlecks™ countertop resurfacing service, or our VividCote™ E Countertop Coating System application, you're making a great choice. The cost savings and the wide range of colors are just some of the benefits you can get from this specialized service.
Our professional coating process brings you fast results, allowing you to use your new counters within just a day or two. The aesthetic beauty is amazing as the ability to replicate the look of a variety of stone finishes is where your individual creativity can really shine. From attractive color choices to the tiny flecks that are characteristic of stone surfaces, you can count on getting as simply elegant or as fashionably bold as you desire.
The patented StoneFlecks™ and the VividCote™ E Countertop coating solutions not only enhance a surface's appearance, but improve the durability and water resistance that is important in any kitchen or bathroom environment. These beautiful low VOC, FDA-compliant finishes can reinforce your surfaces and extend the years of use. The non-porous material also protects countertops from stains and moisture damage – preventing harmful bacteria and mold growth. For commercial surfaces and kitchens, additional anti-microbial properties can be added to make it even safer for heavy everyday use. This unique quality sets these coatings apart from conventional tiles and grout.
Expect easier maintenance from your surfaces that have been refinished by Crystal Shine Refinishing, as your new smooth and sealed surfaces will be quickly clean with just some gentle soap and a cloth. Our tile and grout restoration and renewal services will also give you the look and ease of care that you can enjoy for years.
So whether you opt for our natural refinishing service or our professional coating application – you still save a lot compared to full countertop replacement. With more than 20 years of experience in the industry, we aim to make each customer completely satisfied with the results.
Countertop Refinishing Services Include:
Restore, Repair, and Reuse – Crystal Shine Refinishing is ready to help you have a beautiful countertop, vanity, or other surfaces. Residential or Commercial, we guarantee all of our work. Our professional staff is ready to help you!
StoneFlecks™ Multi-Color Finishes

VividCote™ E Countertop Coating System
Enjoy the look of a natural stone surface with lasting durability – with less inconvenience than renovation and with less waste – at a fraction of the price!
Crystal Shine Refinishing professionally applies these beautiful low VOC, FDA-compliant finishes that bring earthy mineral tones to a multitude of surfaces.
In as little as one day you can get back to using your countertop or vanity surface.
A high-performance professional countertop coating system applied by Crystal Shine Refinishing brings new life to worn horizontal surfaces!
Extremely durable and resistant to scratches, this virtually odorless zero-VOC countertop coating is FDA-compliant for use on food contact surfaces and brings years of beauty to countertops, worktops, tables, desks, and any other horizontal surfaces that need a stunning finish.
Ready to get started? Get a FREE estimate today!