Bathtub Refinishing Services
We can professionally remove unsightly stains, soap scum, and mineral build-up in tubs – those stubborn stains that just won't budge with regular household cleaning solutions. The surface of your bathtub will be smoother, making it easier to maintain and saving you time and money.
Our environmentally safe refinishing process can also remove hard water stains and mineral deposits from bathtubs, glass shower doors, and fixtures. If your bathtub or sink cannot be restored naturally, we offer low-VOC coating options that can be customized with colors and textures.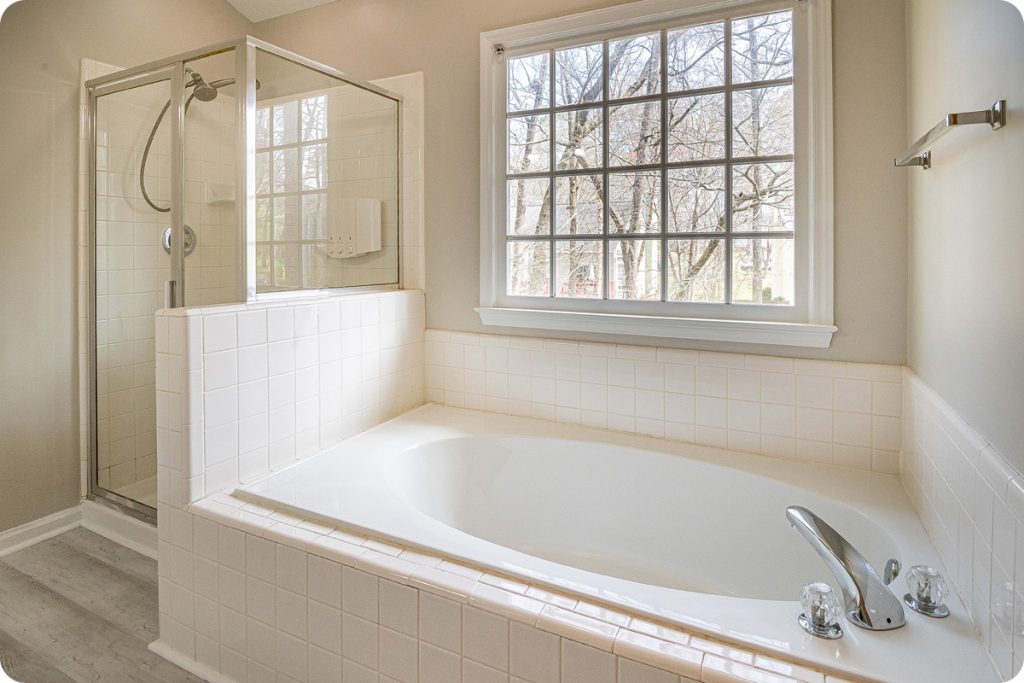 We'll give your tub a Crystal Shine!
Cleaning and restoring your bathtub is just a phone call away!
Many types of tubs can be restored using our regular refinishing methods without coatings needing to be sprayed on. Your bathtub and shower can be used immediately after our typical service, but if your tub cannot be restored naturally, we do offer low-VOC options for bathtub coating.
If your previously painted or coated tub has begun to peel, we can advise if it can be restored. If the original finish of your tub under the paint or coating can be salvaged, we will remove the peeling surface and restore original shine. If your tub cannot be restored naturally, we offer a low-VOC option for bathtub coating.
We can restore worn fiberglass shower pans.
Crystal Shine Refinishing will renew the look of your stained and dull shower. This service removes hard water stains, removes soap scum, and brings back the luster and shine of shower enclosures. Our refinishing process costs less than it would to replace the shower pan and surround. We restore fiberglass showers and leave them looking refreshed with a clean sheen that will last.
Anti-slip patch installation or removal service for tubs or showers.
We install or replace the non-slip surface to help in the prevention of slips and falls with a safe and chemical-free process. Our anti-slip patch installation is an affordable way to have your tub and shower surfaces professionally etched for increased safety. If the existing anti-slip texture of your tub or shower is worn, stained, or unsightly – we can remove it for you, and replace it if desired.
Bathtub Refinishing Services Include:
Restore, Repair, and Reuse – Crystal Shine Refinishing is ready to help you have a beautiful bathtub or shower. Residential or Commercial, we guarantee all of our work. Our professional staff is ready to help you!
StoneFlecks™ Multi-Color Finishes

VividCote™ E Countertop Coating System
Enjoy the look of a natural stone surface with lasting durability – with less inconvenience than renovation and with less waste – at a fraction of the price!
Crystal Shine Refinishing professionally applies these beautiful low VOC, FDA-compliant finishes that bring earthy mineral tones to a multitude of surfaces.
In as little as one day you can get back to using your countertop or vanity surface.
A high-performance professional countertop coating system applied by Crystal Shine Refinishing brings new life to worn horizontal surfaces!
Extremely durable and resistant to scratches, this virtually odorless zero-VOC countertop coating is FDA-compliant for use on food contact surfaces and brings years of beauty to countertops, worktops, tables, desks, and any other horizontal surfaces that need a stunning finish.
Ready to get started? Get a FREE estimate today!