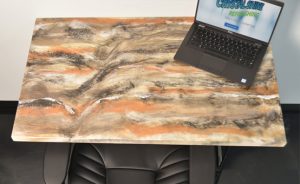 A high-performance professional countertop coating system applied by Crystal Shine Refinishing brings new life to worn horizontal surfaces!
Extremely durable and resistant to scratches, this virtually odorless zero-VOC countertop coating is FDA-compliant for use on food contact surfaces and brings years of beauty to countertops, worktops, tables, desks, and any other horizontal surfaces that need a stunning finish.
Quickly and inexpensively have a clean and attractive look in just a matter of hours, in as little as one day you can get back to using your countertop, worktop, or vanity surface. Crystal Shine Refinishing professionally applies these beautiful finishes with less cost and waste than standard renovation and replacement hassles. This application is perfect for any flat surfaces made of concrete, ceramic or porcelain tile, marble, terrazzo, corian, fiberglass, formica, and stone.
Choose the look of traditional marble, soapstone, granite, or bold color blends. For added dimension, the Dream Metallics™ Collection of pigments bring even more shimmer and depth to any project. Offering the best long-term protection for the refinishing of countertops, these high-performance coatings use resin layer technology combined with special additives to duplicate the visual impact, durability, and scratch-resistance of real stone.
Dream Metallics™, when added to the VividCote™ Countertop Coatings, are like the cherry on top of a desert! With a choice of Mica Metallics, Pearlescent hues, Sparkle Effects, or bright Fluorescent colors – the options are as varied as your imagination.
Dream Metallics™ Collection – Metallic Mica Powders
These versatile concentrated colors add shimmer and depth to any resurfacing project.
Available in Wine Red, Scarlet Red, Ocean Blue, Sapphire Blue, Apple Green, Carnation Pink, Lilac Purple, Royal Purple, Magenta, Hazelnut Brown, Venetian Bronze, Copper Kettle, Orange Gold, Gunmetal Gray, Black Gray, Canary Yellow, and Tropical Orange.
Dream Metallics™ – Pearlescents
Beautifully subtle, the pearlescent colors add an appealing iridescent look to countertops.
Available in White Pearl, Green Pearl, Blue Pearl, Gold Pearl, Silver Pearl, and Pink Pearl.
Dream Metallics™ – Sparkle Effects
Glamorous and fun, add a little extra magic to your surfaces with these fine sparkling particles.
Available in Dark Blue, Pink, Bronze, Light Blue, and Purple.
Dream Metallics™ – Special Effects Powders
Grab attention or denote safety areas with eye-popping fluorescent colors.
Available in blue, orange, yellow, pink, green, and purple.
Final colors and pattern may vary due to application technique, base-coat color, environmental conditions, the surfaces being treated, differences in computer monitors, and other elements which may cause differences from the samples presented. All colors are representative only.
Refurbishing existing features with VividCote™ or StoneFlecks™, rather than replacing them, promotes the environmentally friendly option of reusing and repurposing. Owners of hotels, motels, and apartment buildings seek out Crystal Shine Refinishing's affordable solutions to restore and complement their properties sustainably and economically.
Residential or Commercial, we guarantee all of our work. Our professional staff is ready to help you.