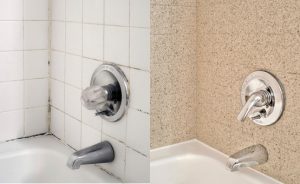 Enjoy the look of a natural stone surface with lasting durability – with less inconvenience than renovation and with less waste – at a fraction of the price!
Crystal Shine Refinishing professionally applies these beautiful low VOC, FDA-compliant finishes that bring earthy mineral tones to a multitude of surfaces.
In as little as one day you can get back to using your countertop or vanity surface.
Crystal Shine Refinishing can refinish virtually any surfaces in your kitchen, bathroom, office, garage, workshop, and beyond!
StoneFlecks™ application services are perfect for any surfaces made of concrete, ceramic or porcelain tile, marble, terrazzo, corian, fiberglass, formica, and stone.
Countertops, vanities, kitchen backsplashes, bathtubs, sinks, shower pans, tub and shower surrounds, walls – even stone or tile floors can look brand new again! Sealing your surfaces or walls against damage from moisture with StoneFlecks™ means that we can quickly and inexpensively improve these areas with a clean and attractive look in just a matter of hours. Offering the best long-term protection for the refinishing of countertops and other surfaces, these high-performance coatings use resin layer technology combined with special additives to duplicate the visual impact, durability, and scratch-resistance of real stone.
StoneFlecks™ is an acrylic polymer-based coating system that produces the granite-like finish that is popular in many kitchens and bathrooms. With a wide range of multi-color finishes, we can make your surfaces look like the more expensive versions and while still maintaining colorfastness, stain resistance, durability, and flexibility.
StoneFlecks™ allows for a full range of options for upgrading all kinds of surfaces at an economical price. All colors shown in this chart are colors designed to coordinate and compliment the latest and most popular kitchen and bathroom designs. Colors are available in a natural, matte, semi-gloss, or full gloss finish – depending on the type of clearcoat selected and the actual surface being refinished. StoneFlecks™ truly delivers abrasion and stain resistance, superior durability, lasting color, and flexibility.
StoneFlecks™ Ultra Multi-Color Coatings
StoneFlecks™ Ultra Multi-Color Coatings help you to achieve the look of natural stone and lasting durability, at a fraction of the price. Choose from three color collections to match a variety of design styles:
Mineral Collection
Earth Collection
Loft Collection
Final colors and pattern may vary due to application technique, base-coat color, environmental conditions, the surfaces being treated, differences in computer monitors, and other elements which may cause differences from the samples presented. All colors are representative only.
Refurbishing existing features rather than replacing them promotes the environmentally friendly option of reusing and repurposing. Owners of hotels, motels, and apartment buildings seek out Crystal Shine Refinishing's affordable solutions to restore and complement their properties sustainably and economically.
Residential or Commercial, we guarantee all of our work. Our professional staff is ready to help you.