Concrete Coating & Floor Refinishing Services
Crystal Shine Refinishing is your source for beautiful concrete coatings, for both indoor and outdoor applications. We can refinish floors with durable coatings that are resistant to stains, moisture, and can withstand heavy foot traffic. A choice of colors and special colored flecks makes for an array of attractive options to choose from.
For slip-resistance, texture can be added for safety and visual appeal. Many of our refinishing techniques and coatings are perfect for garages and workshops – and outdoors on tiled porches, balconies, patios, and lanais. Pool and spa surrounds and walkways that need a beautiful upgrade and a slip resistant surface are a large part of our commercial client services offered.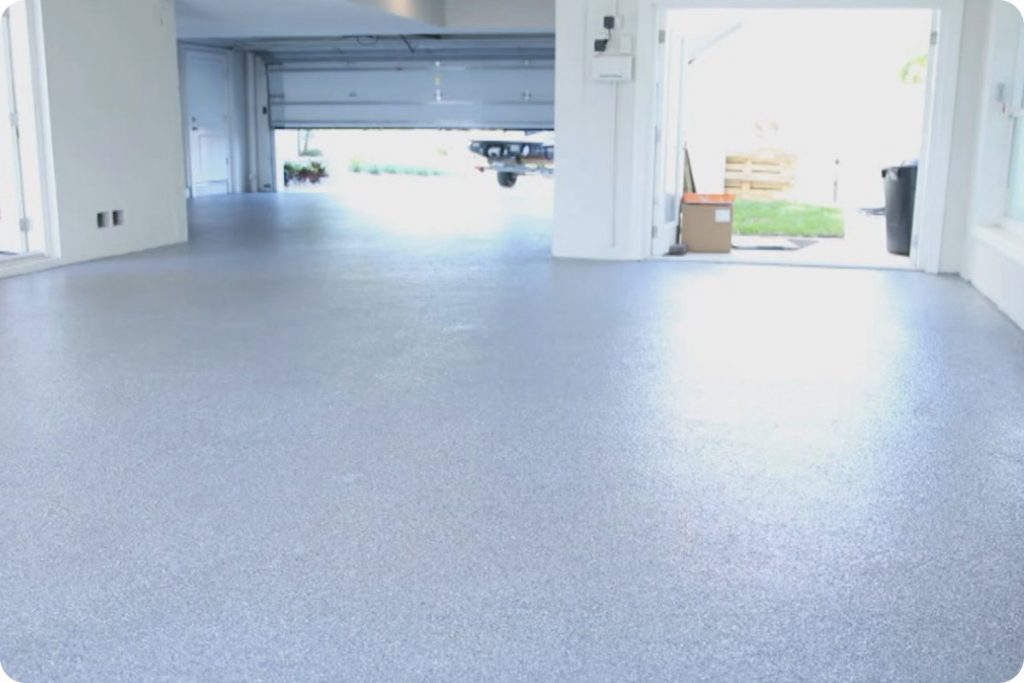 Seal, Protect, & Beautify
Crystal Shine Refinishing cost-effectively transforms your bare concrete surfaces into beautiful and durable living and working spaces!
Our general motto about our coating applications is "the separation is in the preparation". This means that we take up 80-90% of the time it takes to do the job fully and professionally – it is important to spend the necessary time on the proper prep work so the coatings will hold on as best as possible. We want everything to be as perfect as possible for ensuring the longevity and beauty of the surface. Preparing concrete surfaces means that the area needs to be carefully etched, inspected, any cracks or chips filled in, and then we methodically apply our base coat, broadcast the color chips, and wait out the drying time. Once the surface is dry, we inspect it again prior to applying the final protective clear coat.
For commercial buildings, apartments, and office buildings, slip-resistant floors are the most recommended for protecting your clients, your visitors, and your company against risk. Bathtubs, bathroom floors, hot tub surrounds, pool areas, and other common areas can be treated with the patented anti-slip coatings.
Anti-Slip Removal or Installation
Permanent anti-slip solutions can be installed for hotels around pool and hot tub areas and entry ways. Tile surfaces are soft-blasted with no coatings needed at all. Our creative and skilled team can also soft-blast glass surfaces to create custom designs and almost any pattern imaginable.
We install or replace the non-slip surface to help prevent slips and falls with a safe and chemical-free process. Our anti-slip patch installation is an affordable way to have your floor surfaces professionally etched for increased safety. If the existing anti-slip texture is worn, stained, or unsightly – we can remove it for you, and replace it if desired.
StoneTuff™ Concrete Floor Coating Systems
Boring concrete floors can be transformed into beautiful, functional, and durable surfaces in less than 24 hours. (Note that drying times can vary depending on the thickness of coatings required, the humidity, and surface area size.)
Fast-curing concrete coating systems – StoneTuff™ Epoxy, StoneTuff™ Polyaspartic, and StoneTuff™ Hybrid – consist of a pigmented base coat, optional moisture guard, optional choice of decorative chips, optional traction additive for slip-resistance, and durable finishes with a clear protective topcoat.
Concrete Coating and Floor Refinishing Services Include:
Restore, Repair, and Reuse – Crystal Shine Refinishing is ready to help you have a beautiful bathtub, shower, countertop, cabinet, wall, or floor. Residential or Commercial, we guarantee all of our work. Our professional staff is ready to help you!
StoneTuff™ Concrete Floor Coating Systems
All StoneTuff™ systems are:
Low odor and low VOC
Resistant to scratches and wear, with excellent adhesion
Highly resistant to chemicals and hot tire pick-up
Available in six solid color finishes and six decorative chip finishes
Ready to get started? Get a FREE estimate today!