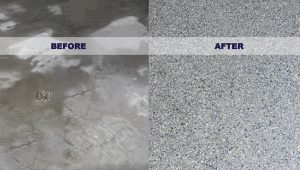 Enjoy the look of a natural stone surface with lasting durability – with less inconvenience than renovation and with less waste – at a fraction of the price!
Crystal Shine Refinishing professionally applies beautiful StoneTuff™ finishes that bring solid colors or mineral tones to a multitude of concrete surfaces for your office, garage, workshop, patio, balcony, and beyond!
Concrete, stone, or tile floors can look brand new again! Sealing these surfaces against damage from moisture, foot traffic, vehicle tires, and industrial activity with StoneTuff™ means that we can quickly and inexpensively improve these areas with a clean and attractive look in just a matter of hours. Offering the best long-term protection for the refinishing of concrete surfaces, these high-performance coatings add visual impact, durability, moisture protection, slip-resistance, and scratch-resistance.
Elements of the StoneTuff™ Concrete Floor Coating System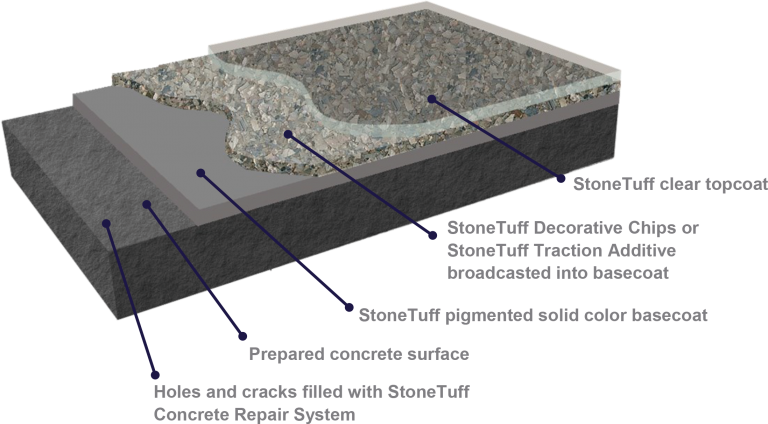 StoneTuff™ System Solid Color & Decorative Chip Finishes
StoneTuff™ Coatings help you to achieve a desirable look and lasting durability, at a fraction of the price of replacing the surface. Choose from six solid color finishes and six decorative chip finishes that can match a variety of design styles:
Solid Colors include: Beige, Black, Dark Gray, Light Gray, Medium Gray, White 
Decorative Chip Finishes include: Aquatic, Arctic Shore, Chameleon, Coastal, Shale, Titanium
All monitors and printers vary and may display colors differently. Due to chemical composition, thickness, application methods, and job site conditions – individual colors may vary slightly. The sample colors pictured here are close approximations, but should not be used for precise specification purposes.
Refinishing existing floors and surfaces, rather than replacing them, promotes the environmentally-friendly option of reusing and repurposing. Owners of homes, hotels, motels, garages, businesses, and apartment buildings seek out Crystal Shine Refinishing's affordable solutions to restore and complement their properties sustainably and economically.
Residential or Commercial, we guarantee all of our work. Our professional staff is ready to help you!