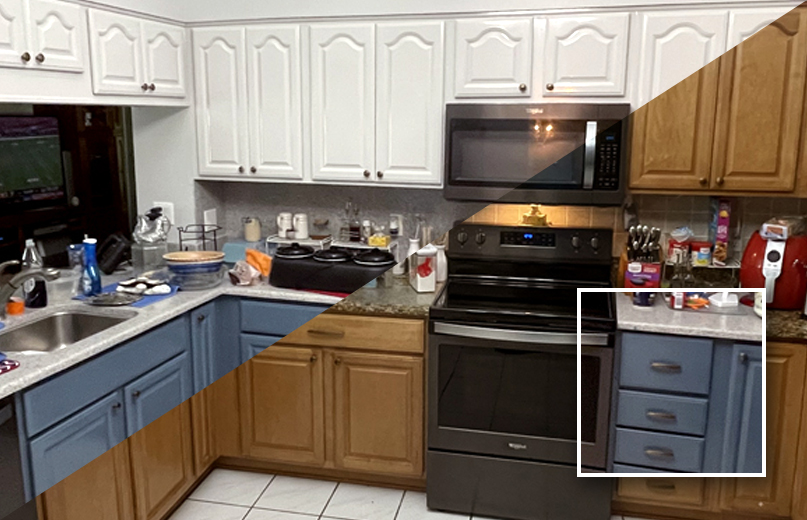 Don't Replace – Refinish your Cabinets Instead!
Call on Crystal Shine Refinishing to transform your bathroom, kitchen, laundry room, garage, office, or other cabinetry with your choice of custom colors.
A complete cabinet color change can update the whole look of a room. The process involves less time and costs compared to replacement, and it's an efficient way to give your kitchen, bathroom, or other spaces a brand new look. Our professionals can also help you have refreshed built-in units, shelves, and storage cabinets.
Shelves and cabinets in your home are not only functional, but they also affect the overall decor and appearance of your living spaces.
Having your cabinets resurfaced or refurbished can be up to 50% less expensive than replacing them! You can count on our professional cabinet refinishing service team to walk you through each step and all of the choices in color and hardware.
Our cabinet, built-in storage, and shelf painting and refreshing services include the following types:
Choosing to have your cabinets refinished is a smart environmental choice, too! By making use of the existing materials that are already in place saves time, money, and landfill space.If you already have quality cabinets in place, the cost effectiveness or refinishing or painting your existing cabinets is a win. The time saved is also a big benefit, especially for those remodeling a property for quick sale, rentals, apartments, or before the in-laws come to visit.
Refinishing and refurbishing is so much faster than the process of demolishing old cabinets and installing new ones. You can enjoy the same layout as your existing cabinets or add trim and features and hardware that extends the look and functionality.
Crystal Shine Refinishing helps you to transform rooms in your home by refinishing other surfaces also! From your cupboards, built-in bookcases, or cupboards – to your backsplashes, countertops, tubs, showers, and floors!
Enjoy Custom Cabinet Color, Trim, & Hardware Options
We can offer cabinet trim to enhance the lines and add a new look for almost any design theme such as modern, traditional, rustic, or minimal. From doors to drawer pulls, custom cabinet trims can make a customized look. Edge molding and trim valances are more options, and choices of media such as fine spray finishes, CabinetCote™, StoneFlecks™, and tile renewal for a multitude of beautiful looks.
Updating your living space does not have to cost a fortune, and our local team members remain committed to providing the quality you deserve at the affordable prices you want. For cabinet ideas and inspiration, check out some of our completed cabinets and Contact Us to schedule your free cabinet refinishing estimate today!